Building façade repairs are not always 'straight forward' and often pose unique challenges.
This essential building façade repair in Sydney posed 2 main challenges:
Scaffolding around a curved building
Scaffolding without tying to the building
Alphasafe took on this interesting project and was able to overcome both major constraints.
SCAFFOLDING AROUND A CURVED FAÇADE
Using precision engineered German scaffolding, Layher Allround. We were able to utilise its connection to form a curved scaffold. Not only overcoming one of the project constraints, but also utilising fewer scaffold components than traditional scaffold systems. Which resulted in a more efficient, and safe outcome.
SCAFFOLDING WITHOUT TYING TO THE BUILDING
The strength of our Layher Allround braces contributed to our efficient free-standing design and allowed for 6.5m between buttresses.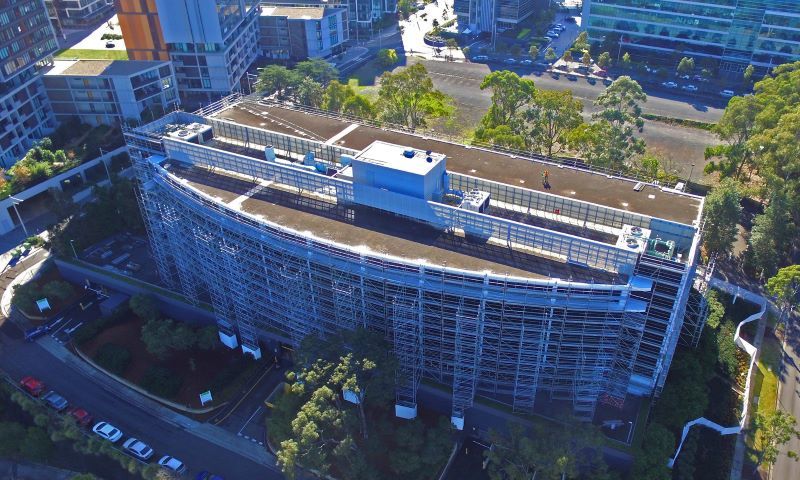 SCAFFOLDING WITHOUT TRIP HAZARDS
With a commitment to eliminate risk, we identified that lapping planks between each section of our curved scaffold presented a risk to workers using the scaffold platform. To eliminate this trip hazard Alphasafe utilised a unique low-profile component which reduced the lapping plank depth from 35mm to only 6mm.
LIGHT WEIGHT SCAFFOLD SOLUTION
The overall efficiency of our scaffolding design kept the weight of structure to a minimum, thus avoiding having to back-prop below the ground floor slab.
Our client was impressed with our design, and delighted by our ability to achieve a build time of 9 days for this scaffolding project.
BUILDING FAÇADE SCAFFOLD SOLUTIONS
Do you require scaffolding for a challenging façade repair?
Do you need a scaffold but can't tie to the building?
Contact Alphasafe today for a solution.
From our major depot's in Sydney and Newcastle Alphasafe provides safe and reliable scaffold solution throughout NSW. View other façade scaffolds and remedial building repairs